Now available: the BrewPi Spark 3
Today, we can proudly announce that the BrewPi Spark 3 is ready to ship!
With a complete redesign of the electronics and the casing, its our biggest update to date and it has been a long journey. Sorry to keep you guys waiting. I have a newfound sympathy for overdue kickstarter projects. Designing a new product is hard and setbacks happen. We did five reworks for the injection mold before the casing was perfect!
A new look
For the new casing, we invested in injection molding, so we could make a fully custom casing in ABS. The new case has been designed by  Frits Stam from Van Alles Wat Ontwerp and manufactured by  Mafa B.V., which I both highly recommend. Let's start with a few photos.
With the new design freedom that injection molding provided, we were able to to make the following improvements:
A sleek and beautifully curved case
A bigger and nicer screen
A light pipe for the status LED next to the screen
All connectors on the top and bottom and for most applications, you'll only need the bottom connectors.
A robust USB connector, separate from the Photon/P1 module.
2 mounting screws on the back for mounting to a panel or to mount countersunk magnets.
A complete redesign of the electronics
We completely redesigned the electronics for the Spark 3, so we could use the P1 module instead of the Photon. The P1 is very similar to a photon, but it is made for product integration. This enabled us to separate the LED, USB connector and buttons from the Photon/P1. 
We also switched to a much better display, different output drivers, a different power circuit, better electromagnetic interference rejection and emission, sensor/5v/12V short circuit protection, micro-SD slot and a 4-layer PCB. The BrewPi Spark is fully manufactured and assembled in the Netherlands and we only use high quality components.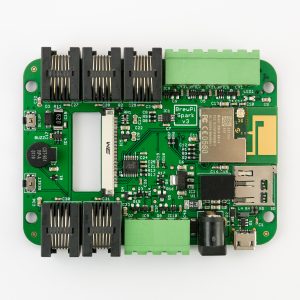 We also added some features to the board for features to be released in the future, but for which we still have to write the software, some examples:
RS485 for communicating with smart sensors and expansion boards over modbus
5V and 12V power on the RJ12 connectors can be enabled/disabled remotely to power cycle peripherals
Some digital outputs have support for fast PWM (like 60Hz or faster)
Some digital outputs can also be configured as digital input
New software
The release of the BrewPi Spark 3 will be paired with the release of firmware version 0.5.0. The biggest update in this firmware release is WiFi support, also for the BrewPi Spark 2. I'll write about this software update in a separate blog post.
Many of you will have questions about support for controlling more than one process, but this is not included in this release yet. This is our next priority and will included in the next software update. I can't do everything at once and I'm still looking for a software developer to expand our team!
Order processing and shipping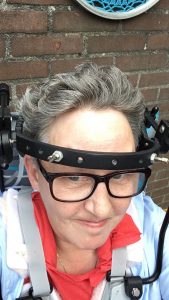 Please give us some time to process the orders. We'll process them as first come, first serve. You can get a shipping quote in the shopping cart. We ship worldwide with FedEx.
We might need some more time than usual. I haven't told you yet that for the past 3 months, I have managed the store without our Chief Warehouse Geke. Geke normally processes, packs  and ships your orders and makes sure that nothing goes out of stock. But 3 months ago, Geke went sleepwalking in the middle of the night and fell down the stairs. Luckily they found her in time and she was rushed to the hospital. She broke her neck at C2 and split the vertebra in 2 halves. But the vertebra has grown back together and she'll make a full recovery!
She's been wearing a halo since the accident, but Wednesday is liberation day! We'll throw a little celebration party and will welcome her back to work soon to very slowly start do a much better job than me again in organizing our warehouse!
Where to order?
You can order the BrewPi Spark 3 in our store:

Don't forget to also order sensors, SSRs, cabling and optionally a power supply. No sensors are included with the controller.
We sell many types of sensors and solid state relays separately, so you can adapt your order to what YOUR brewery needs. We like to keep it modular and flexible.
We ship the Spark without any sensors or SSRs. There are too many options! Order them separately, so you can pick the ones that fit YOUR brewery.
Some examples:
Do you want to control a fridge and heater for fermentation?
Do you want to control glycol pumps or 12V heat mats?
Do you want to control big heating elements for mashing?
See, that's why we keep it flexible and modular!